For eleven years, dreams, knowledge and commitments have added up to consolidate the Community REDD+ Portfolio in the Biogeographic Chocó.
A portfolio that thrills us from Acandí to Tumaco has been possible thanks to the commitment and work of the Mutatá Indigenous Council and the 19 Community Councils that are part of the 9 REDD+ projects: Bajo Mira y Frontera, ACAPA, Cajambre, Bajo Calima, La Plata-Bahía Málaga, Concosta, Sivirú, Usaragá, Pizarro, Piliza, ACABA, Río Pepé, Montaño, Vigía de Curvaradó-Santa Rosa del Limón, Domingodó, Apartadó- Buena Vista, Chicao, La Madre and Cocomasur.
During this journey, the United States Agency for International Development (USAID) set a learning path that served as a compass for guiding the strengthening process with communities. Their committed work and the resources invested were crucial in shaping the Community REDD+ Portfolio into what it is now. Its management and accompaniment with Fondo Acción continued until 2018 through the Connected Landscapes program, leaving significant advances that paved the way for great achievements and results.
Fondo Acción joined efforts, abilities and resources to boost the project's objectives, strengthening communication and trust with each of the participating communities, understanding the dynamics of their territories to generate real actions aligned with their contexts, culture and traditions.
In 2019, the Sustainable Colombia Fund and its donors, as well as the Inter-American Development Bank, joined this journey of commitments, learning and challenges, with the conviction that working with the communities of the Pacific could build viable territories.
Each of these actors has played an important role in this story with the goal of extending it in time and promoting it as a sustainable option for the families of the Colombian Pacific.
Here we narrate what the process has been like and the present the most important facts. We invite you to learn more about this story by clicking on the following sections: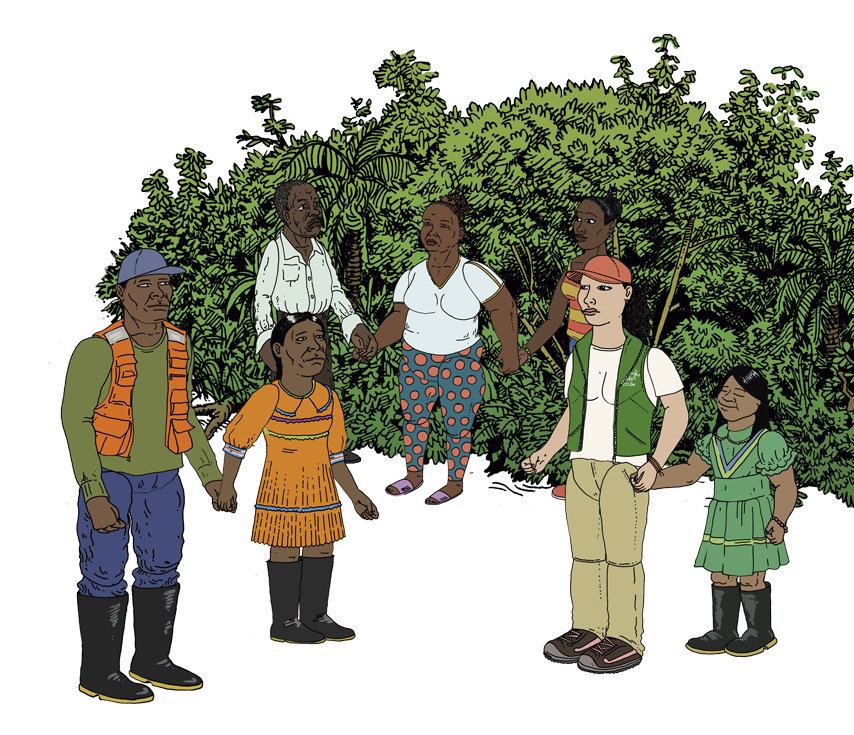 The work continues
After this long journey, Fondo Acción reaffirms its commitment to working towards building territories that are viable for all. In December 2019, its board of directors set up a fund for the design and reproduction of REDD+ projects around the country. This fund benefits from the experience and lessons learned from REDD+ Portfolio's consolidation in the Biogeographic Chocó.
More than a portfolio, we are a big family that, from different locations, connects to the power of trusting and creating. A family that has been learning, training, and realizing that wellbeing is achieved collectively.
There is still a long road ahead, but each step brings us closer to a country that commits to territories that prioritize life and provide guarantees to make living, staying and dreaming possible.